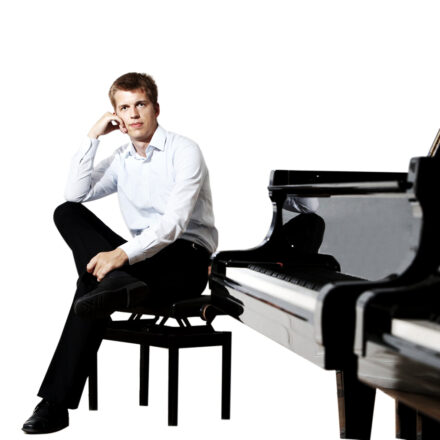 27/1/2021 from 7:30 pm
Concert Hall of Sts. Simon & Jude
Marek Kozák, Patrik Sedlář
---
Program:
Carl Stamitz

Orchestral Quartet No. 4 in F major

Wolfgang Amadeus Mozart

Concerto for Piano and Orchestra No. 11 in F major, K. 413

Wolfgang Amadeus Mozart

Concerto for Piano and Orchestra No. 13 in C major, K. 415
---
Marek Kozák, piano
Patrik Sedlář, concertmaster
Marek Kozák
At the age of twenty-seven, the piano virtuoso Marek Kozák has achieved a series of impressive results in a wide range of competitions, including some of the most prestigious ones. His most recent honors include winning the title Talent of the Year at the fourth annual Classic Prague Awards 2019.
His name is almost always remembered as a semifinalist in the Fryderyk Chopin International Piano Competition in Warsaw (2015), the top piano contest in its discipline worldwide, or with his success at the prestigious Prague Spring competition a year later in 2016. In 2018, he won the first prize as well as the audience prize at the European Piano Competition in Bremen.
Critics have consistently praised his flawless technique, his sense of proportion and gradation, his wide range of expression, deep musicality and faithfulness to the musical notation.
Marek Kozák graduated the piano class of Prof. Ivan Klánský at the Academy of Performing Arts in Prague. He attended numerous masterclasses led by world-famous virtuosos, such as Eugen Indjic, Murray Parahia or Garrick Ohlsson. He studied piano and organ at the Janáček Conservatory in Ostrava.
Marek Kozák has a clear focus on the interpretation of Chopin, while also excelling at contemporary music – a fact that is easily evidenced by the award he received at the competition in Bremen. Concert stages are graced with his elegant interpretative style, and audiences are thrilled by his ability to "present with great humility and without ostentation that which the composer wished to express".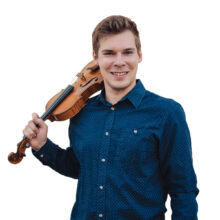 Patrik Sedlář
Patrik Sedlář studied violin at the P. J. Vejvanovského Conservatory in the class of Prof. Jaroslav Krátký between 2009-2015. He regularly participates in violin competitions – in 2011, at the Josef Muzika International Competition in Nová Paka he received an honorable mention and a year later the 3rd prize. In 2018, he received an honorable mention at the Bohuslav Martinů competition in Prague. Since 2011 he has regularly attended Master Classes of Prof. Bohuslav Matoušek in whose class he studied at the Academy of Performing Arts in Prague. In 2013 and 2015, he received a scholarship of the Czech Music Fund Foundation for the Support of Czech Modern Music. In September 2015, he performed as soloist with Moravian Philharmonic at Kroměříž Music Summer festival. In 2018-2019, he completed one-year of study at Universität für Musik und darstellende Kunst Wien with the concertmaster of Wiener Symphoniker Jan Pospíchal. He is a member of the Errai piano trio, which regularly performs in the Czech Republic, Germany and Turkey. In 2018, trio won 2nd place at the Bohuslav Martinů competition in Prague, and in 2019 they performed solo with the North Bohemian Philharmonic in Teplice.