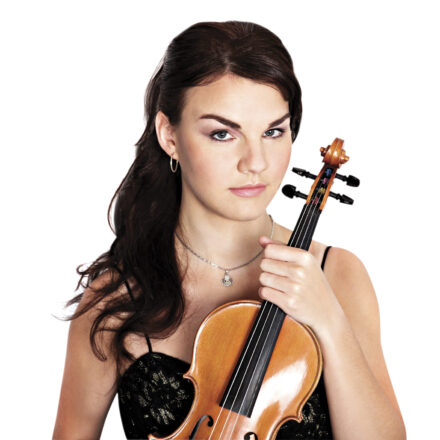 24/9/2019 from 7:30 pm
Dvořák's Hall Rudolfinum
Olga Šroubková
---
Program:
Pavel Haas

Four songs on Chinese Poetry

Ludwig van Beethoven

Symphony No. 6 in F major "Pastoral"

Johannes Brahms

Concerto for Violin and Orchestra in D major
---
Olga Šroubková, violin
Roman Janál, baritone
Zbyněk Müller, conductor
Olga Šroubková
Olga Šroubková (1993) has been playing the violin since the age of four. When she was eight, she joined the class of Professor Jiří Fišer, graduating under the same teacher from the music programme of the Jan Neruda Grammar School and later from the Prague Conservatory. Since October 2014, she has been studying at the Hochschule für Musik, Theater und Medien Hannover with Professor Adam Kostecki.
She is the laureate of numerous Czech and international competitions, where she also received many special prizes for exceptional interpretation. Among the most valuable are first prizes from competitons such as Chengdu International Violin Competition 2015 in China, Rodolfo Lipizer Prize 2016 in Gorizia, Italy and Prague Spring International Music Competition 2017. She was also 4th at Michael Hill International Violin Competition 2017 and 2nd at the Shanghai Isaac Stern International Violin Competition 2018 in China.
Olga has made several appearances with the Czech Philharmonic Orchestra. In 2014 and 2015 she auditioned for the position of concertmaster of the Czech Philharmonic Orchestra, which led to several invitations to perform as a guest concertmaster.
She makes regular solo appearances with prominent Czech and Slovak orchestras and her performances at competitions have been accompanied by international orchestras such as the Shanghai Symphony Orchestra and the Symphony Orchestra of the Udmurt Republic.
She has an impressive record of festival appearances, the most prominent venues including Dvořákova Praha, Prague Spring, Smetana's Litomyšl, Allegretto Žilina, Leoš Janáček International Music Festival, Film Music Prague, and Ticino Musica International Classic.
Roman Janál
Baritone, Roman Janál, graduated in violin at the Pilsen Conservatory and later studied voice at the National Academy of Music in Sofia, Bulgaria. After a successful debut at the Prague State Opera as Guglielmo in Così fan tutte and Figaro in The Barber of Seville, he was engaged as a soloist in 1995. In November 1995 he was the overall winner of the International Antonin Dvořák Singing Competition in Karlovy Vary. In that same year he also became a professor of singing at the Prague Conservatory.
Since 1997 he has been a soloist of the National Theatre Opera in Prague where he has performed many roles from the Czech and international repertoire such as Don Giovanni, Count Almaviva (Le nozze di Figaro), Dottore Malatesta (Don Pasquale), Giorgio Germont (La traviata), Silvio (Pagliacci), Sonora (La fanciulla del West), Grégorio (Roméo et Juliette), Escamillo (Carmen), Lord Vok (The Devil's Wall), Kalina (The Secret), Tomeš (The Kiss) and Pollux (Castor et Pollux) for whose portrayal he was awarded the prestigious 1999 Thalia Award.
In 1984 he began his long collaboration with the Czech Radio, where he has made many studio recordings and several CDs of operatic arias and lyrical cycles from composers of the Romantic period and the 20th century. Under the baton of conductor Jiří Bělohlávek, he performed the solo part from Martinů's Field mass and The Opening of the Wells with the BBC Orchestra in London. He also performed these same compositions in Amsterdam under the direction of Christopher Hogwood. Since the 2008/2009 season, Janál has been a soloist with the Janáček Opera of the National Theatre Brno.
Zbyněk Müller