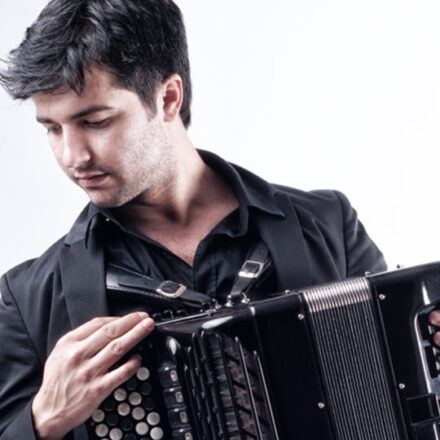 24/1/2023 from 20:00
Concert Hall of Sts. Simon & Jude
Srdjan Vukasinovic
---
Program:
Henry Purcell

Chacony in G minor

Astor Piazzolla

Primavera Porteña from Four Seasons of Buenos Aires

Gustav Holst

St. Paul´s Suite

Aram Khachaturian

Concerto for Violin and Orchestra in D minor, transcription for accordion
---
Srdjan Vukasinovic, accordion, Switzerland
Patrik Sedlář, deputy concertmaster
Srdjan Vukasinovic
Srdjan Vukasinovic has established himself as one of the leading performers of the accordion in the world today. His fresh, innovative, and versatile approach to music has led to a reputation as a great concert master who can always satisfy the curiosities and needs of all different kinds of audiences. He is always bringing new ideas and methods in his performance, based on improvisation and combining different musical genres with jazz and world music. 
As a young musician, he won the first prize at one of the most important competitions for accordion – the World Trophy in Spain in 1999, giving to him the title of the best accordionist in the world. As a sought – after soloist performs with orchestras such as Agrovia Philharmonic, Klassik Nuevo Orchestra, Belgrade Philharmonic Orchestra, Zürcher Kammerorchester, Südwestdeutsche Philharmonie, etc. In October 2018 he had concert with the London Royal Philharmonic and he became the first accordion player who performed with them. 
Srdjan Vukasinovic has invented the first quarter – tone accordion in the world. With this multi – tuning accordion, it is possible to play 24 tones in one octave. Also, there is a possibility to combine many different tunings at the same time (for baroque, modern, oriental music etc.). One more of Srdjan's innovations is his new accordion brand " Carboneon ". This innovative instrument is the first one made from carbon fiber, which renders Carboneon the lightest accordion in the world.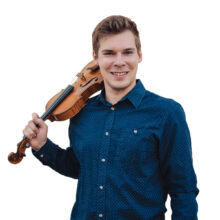 Patrik Sedlář
Patrik Sedlář studied violin at the P. J. Vejvanovského Conservatory in the class of Prof. Jaroslav Krátký between 2009-2015. He regularly participates in violin competitions – in 2011, at the Josef Muzika International Competition in Nová Paka he received an honorable mention and a year later the 3rd prize. In 2018, he received an honorable mention at the Bohuslav Martinů competition in Prague. Since 2011 he has regularly attended Master Classes of Prof. Bohuslav Matoušek in whose class he studied at the Academy of Performing Arts in Prague. In 2013 and 2015, he received a scholarship of the Czech Music Fund Foundation for the Support of Czech Modern Music. In September 2015, he performed as soloist with Moravian Philharmonic at Kroměříž Music Summer festival. In 2018-2019, he completed one-year of study at Universität für Musik und darstellende Kunst Wien with the concertmaster of Wiener Symphoniker Jan Pospíchal. He is a member of the Errai piano trio, which regularly performs in the Czech Republic, Germany and Turkey. In 2018, trio won 2nd place at the Bohuslav Martinů competition in Prague, and in 2019 they performed solo with the North Bohemian Philharmonic in Teplice.