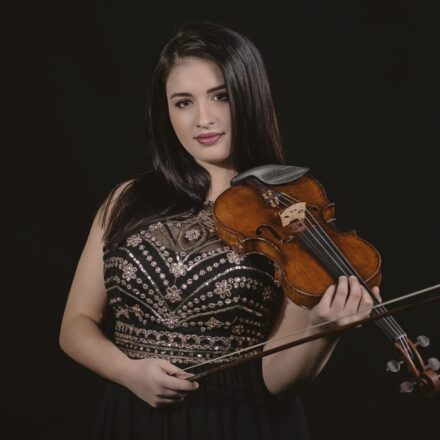 4/10/2022 from 19:30
The Large Hall of Žofín
Sara Dragan
---
Program:
Antonín Rejcha

Overture in C major

Mieczysław Karłovicz

Serenade for Strings

Ludwig van Beethoven

Concerto for Violin and Orchestra in D major
---
Sara Dragan, violin, Poland
Patrik Sedlář, deputy concertmaster
Extraordinary concert in cooperation with the Polish Cultural Center.
Sara Dragan
Sara Dragan is emerging as one of the finest violinists of her generation. Despite her young age, Sara won first prize / Grand Prix of about 50 violin competitions in Europe, Asia and USA, among others: International Violin H. Wieniawski & K.Lipinski Competition, New York International Artists Association Competition, International G. P. Telemann Violin Competition, International Global Music Partnership Competition.
She performed solo with such an orchestras as: Novosibirsk Philharmonic Orchestra, Slovak Sinfonietta, Wieniawski Philharmonic Orchestra, the BVG OrchesterBerlin, Royal Chamber Orchestra, Bohuslav Martinu Philharmonic Orchestra, Wroclaw Philharmonic Orchestra, Sudeten Philharmonic Orchestra, Opole Philharmonic Orchestra, the Warmian-MasurianPhilharmonic Orchestra, Tel Aviv Soloists Orchestra, Busan Philharmonic and many others.
Sara Dragan has performed at many prestigious festivals all over the world among those are Schleswig-Holstein MusikFestival, Interlaken Classics, Henryk Wieniawski Festival and the "Emanations" Festival at Krzysztof Penderecki European Music Center of Music.
Sara is protégée of legendary pedagogue Professor Zakhar Bron. The exceptional young violinist is currently playing on an old Italian violin -Nicola Amati (1666) on the generous loan from Florian Leonhard Fine Violins(London & New York).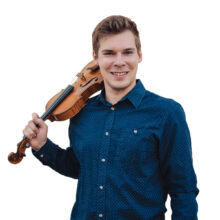 Patrik Sedlář
Patrik Sedlář studied violin at the P. J. Vejvanovského Conservatory in the class of Prof. Jaroslav Krátký between 2009-2015. He regularly participates in violin competitions – in 2011, at the Josef Muzika International Competition in Nová Paka he received an honorable mention and a year later the 3rd prize. In 2018, he received an honorable mention at the Bohuslav Martinů competition in Prague. Since 2011 he has regularly attended Master Classes of Prof. Bohuslav Matoušek in whose class he studied at the Academy of Performing Arts in Prague. In 2013 and 2015, he received a scholarship of the Czech Music Fund Foundation for the Support of Czech Modern Music. In September 2015, he performed as soloist with Moravian Philharmonic at Kroměříž Music Summer festival. In 2018-2019, he completed one-year of study at Universität für Musik und darstellende Kunst Wien with the concertmaster of Wiener Symphoniker Jan Pospíchal. He is a member of the Errai piano trio, which regularly performs in the Czech Republic, Germany and Turkey. In 2018, trio won 2nd place at the Bohuslav Martinů competition in Prague, and in 2019 they performed solo with the North Bohemian Philharmonic in Teplice.