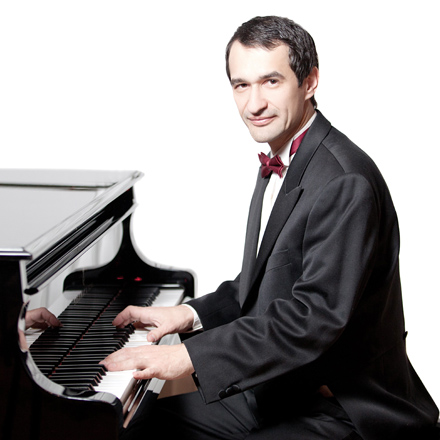 5/12/2018 from 7:30 pm
Concert Hall of Sts. Simon & Jude
Adam Skoumal
---
Program:
Johann Sebastian Bach

Concerto for Piano and Orchestra in D minor, BWV 1052

Adam Skoumal

Concerto No. 2 for Piano and Strings

Antonín Dvořák

Serenade for Strings in E major
---
Adam Skoumal, piano
Matouš Pěruška, concertmaster
Adam Skoumal
Studied at Prague Conservatory and at the Academy of Music Arts. He gained experience also at prestigious universities in the USA: he received a scholarship at Southern Methodist University in Dallas and two years after at Manhattan School of Music in New York. After that he became a laureat of a number of international competitions. Adam Skoumal is known as a tallented pianist and composer by the audience in Europe, the USA and also in Japan. In past years he has performed for the Czech Philharmony, Prague Symphony Orchestra FOK, Prague Philharmonia, at Prague Spring Festival in 1998, where he was also awarded a prize for the best performance of a Czech contemporary play.
Matouš Pěruška
After finishing his studies at Prague Conservatorium, in 2012 he started studying at Academy of Music Arts in a class of professor Leoš Čepický. In 2012-2014 he became a member of orchestra academy of Czech Philharmonia, since that he regularly cooperates with them. Regularly he participates in courses of Vienna Philharmony and many times he has performed together with other succesfull participants at the gala concert at Musikverein in Vienna. In 2014 he won the international competition in Verona, where he got as one of the prizes the possibility to borrow a violin made by Ottelo Bignami. In 2015 he won the second prize and the prize of the audience at international competition of Johannesse Brahms in Pöertsach, Austria. Last year he was a finalist of a prestigious competition Prague Spring. Apart from his intense solo activities, he is also dedicated to a chamber music. In 2015, together with a cellist Kristina Vocetková they won the Prize of Zoltán Kodýly and the Prize of Bohuslav Martinů.