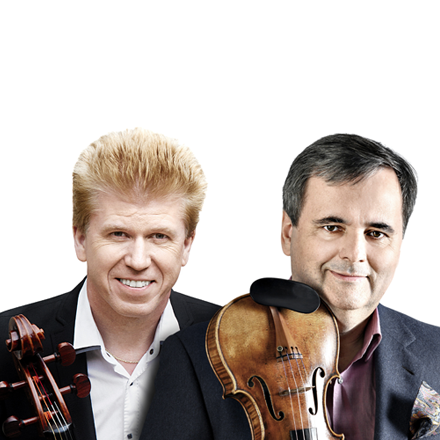 9/6/2020 from 7:30 pm
Dvořák's Hall Rudolfinum
Michal Kaňka, Leoš Čepický
---
Program:
Ludwig van Beethoven

Symphony No. 7 in A major

Johannes Brahms

Concerto for Violin, Violoncello and Orchestra in A minor
---
Michal Kaňka, violoncello
Leoš Čepický, violin
Paul Mauffray, conductor
Michal Kaňka
Born in Prague in 1960, Michal Kaňka is undoubtedly one of the most desired cellists in Europe. During his studies under the tutelage of Prof. Josef Chuchro at the Prague Academy of Fine Arts, he participated in the G. Piatigorsky Seminars in Los Angeles under famous cellists Andre Navarra, Maurice Gendron and Paul Tortelier.
He attended 32 national and international music competitions. First big achievement was the grand prize for all categories in the Czechoslovak National Competition in 1981. This initial success has been followed by top prizes in the Tchaikovsky Cello Competition in Moscow in 1982 and in the Prague Spring Competition in 1983 (first prize). In 1986, Michal won the ARD International Competition in Munich.
Michal Kaňka has performed with leading orchestras in Europe and Japan and he has appeared as a soloist in many countries of the world. He recorded more than 40 solo CD and often records for various national and international recording companies and radios.
He has been always an active chamber music player. As a member of the Pražák string quartet (since 1986) and the Beethoven string trio he has appeared on major concert stages in the whole world and recorded many pieces. Since April 2017 he is also collaborating as a cellist of the Wihan string quartet.
In 2011 he started to teach cello-solo at the Academy of performing Arts in Prague and in 2013 he became a Professor at the Prague Conservatory. In 2014 he was chosen to be a chairman of the permanent committee of the international competition Prague spring. In 2016 he became a member of the board of directors of the Foundation Bohuslav Martinu. Since 2018 he is a member of the artistic board of the international festival Prague spring.
He plays an outstanding contemporary instrument made by French violin-maker Christian Bayon 2006 and the bow made by French bow-maker Nicole Descloux 2000.
Leoš Čepický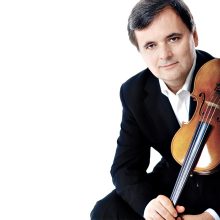 He graduated at the Conservatorium in Pardubice and at the Academy of Music Arts in Prague. He won many international competitions, e.g. in Zagreb (Croatia) and in Gorizia (Italy). He frequently gives solo recitals as well as concerts with orchestras, both in the Czech Republic and also abroad. To celebrate the 250th anniversary of J. S. Bach's death in 2000 he performed a series of concerts of all Bach's Sonatas and Partitas for violin solo at the Smetana's Festival in Litomyšl. In 2002 he made a Multisonic solo CD recording of Bach's Sonatas and Partitas. Since 2007 he works as a professor of violin at the Academy of Music Arts in Prague and in September 2010 he was appointed as a head of a string department of the Academy of Music in Prague. During his studies at AMU he became the first violinist of the Wihan Quartet and he still remains a member of this quartet. As a member of the Wihan Quartet he won the Prague Spring Award in 1988 and also the International Competition of the String Quartets in London in 1991. In 2008 – 2009 the Wihan Quartet performed all 16 Quartets of Ludwig van Beethoven. Leoš Čepický plays a violin from the workshop of violin master Jan B. Špinlen, copy of Guarneri el Gesu from 1741.
Paul Mauffray